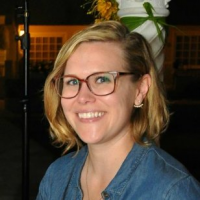 Annie Roos
I'm a quick-witted, pun-loving copy and creative content writer with a knack for sculpting the perfect sentence. I specialize in professional-yet-conversational writing with a fresh, engaging voice that transitions seamlessly from buttoned-up formality to lighthearted whimsy.
Though I've been dabbling in shoes, clothing, and all things fashion for the majority of my career, my main joy comes from the fragile art of sentence construction. A carefully curated collection of words is the only thing that stands between a boring story and a true literary masterpiece.
The nitty gritty:
EDUCATION: UNIVERSITY OF CALIFORNIA, DAVIS Bachelor of Arts, July 2009 Major: English
QUALIFICATIONS:
 Skilled in writing creative, compelling, and concise guest-focused copy  Able to understand, review, and edit others' work in a tactful and constructive way  Demonstrated ability to work within deadlines and meet goals in a fast-paced, ever-changing work environment  Professional, confident, and poised in interactions with individuals at all levels
EXPERIENCE :
Coyuchi, San Francisco, CA Freelance Copywriter, since 2018  Collaborating on copy for luxury organic linens across all channels, including marketing emails, catalogs, product descriptions, social media, blogs, and creative content.
Bell's Brewery, Inc., Kalamazoo, MI Freelance Copywriter, May 2017  Breathing a humorous, engaging new life into product descriptions for online general store
Kylen Every Wear, Fashion Blog Copywriter/Ghostwriter, January-June 2017  She creates the outfits, I create the copy, capturing her personality and youthful energy
Charlotte Russe, San Francisco, CA Product Copywriter, December 2013-December 2015  Optimized organic searchability on a daily, product-level basis to increase traffic and revenue  Improved aesthetic quality of product copy, in a concise, brand-appropriate voice  Created a style guide detailing the copywriting process, with easy-to-use templates  Modified/re-wrote page titles and meta descriptions for all category and sub-category pages  Constantly observed and researched competitors and style-centric sites to stay on top of the current (and classic) trends and terminology  Grammar-checked social media posts and provided occasional, brand-heightened copy
Lulus.com, Chico, CA Copywriter/Blogger, March 2011-July 2013  Injected captivating, blog-worthy content with thoughtful commentary from my own style-savvy perspective  Turned my love of language into a quirky collection of creative product names and stories, without sacrificing the integrity of any vital information  Collaborated with the on-site creative team to provide optimal copy for the brand  Compiled an extensive collection of SEO verbiage to increase searchability without losing sight of the creative vision
Intimate Math, Entrepreneur Blog Senior Creative Content Writer/Copywriter, January-June 2010  Crafted attention-grabbing articles that detailed the cutting edge work of visionaries and entrepreneurs  Led creative direction of all blog content, introductions, and excerpts  Condensed in-depth interviews into concise, inspirational synopses of the faces and stories behind some of the tech world's biggest brands  Researched subjects to find stimulating background information to enrich the readers' experience  Served as mentor to interns by integrating their writing style into the desired voice of the brand
Expertise Blogging, creative content, product descriptions
Skills Creative Writing, Copywriting, Ghostwriting, Editing, Proofreading, SEO
Location Kalamazoo, MI